Funeral Planner of the Year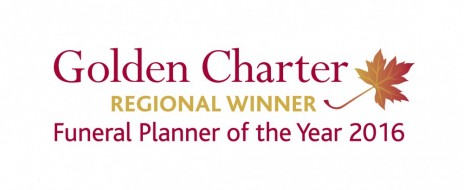 Paul Williams Independent Funeral Directors named regional Funeral Planner of the Year 2016
We are proud to announce we have been named the best funeral planner in the East Lancashire Region at this year's national Funeral Planner of the Year Awards, run by market leading funeral plan provider Golden Charter.
Hosted by the BBC's Sian Lloyd, the awards mark the biggest annual gathering of independent funeral directors in the UK, with this year's event taking place at The Vale Resort near Cardiff.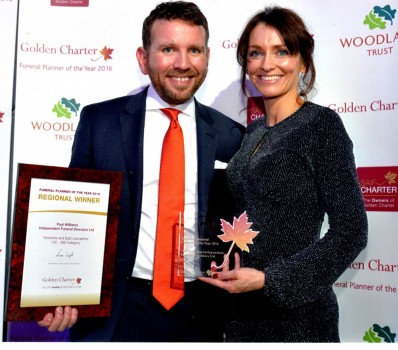 pictured: Paul & Helen receiving the Regional Funeral Planner of the Year Award
In addition to the award itself the Woodland Trust has dedicated ten trees on behalf of Paul Williams Independent Funeral Directors which are to be planted locally in recognition of the company's achievement.
Ronnie Wayte, Golden Charter's Chief Executive, said: "Now in their 23rd year, the awards are more competitive than ever before, with funeral plans continuing to grow in popularity. This award is well earned proof that Paul Williams Independent Funeral Directors has reached a remarkable standard."
The Funeral Planner of the Year Awards focus on the achievements of independent funeral directors, who make up a majority of the funeral industry. With the most recent SunLife figures showing that the average price of a basic funeral has increased by more than 90% in the past 11 years, more people are choosing to use funeral plans to freeze the cost of the funeral director's services at today's prices.